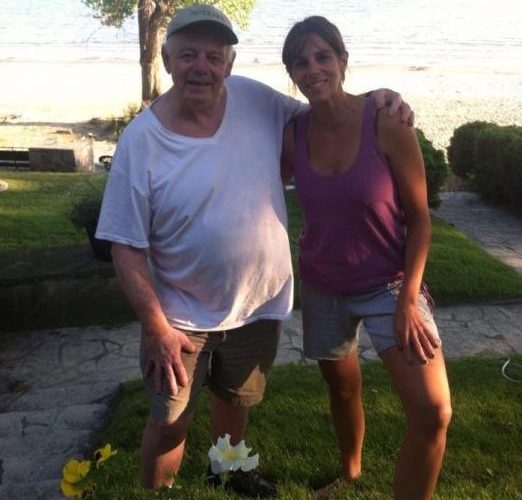 "Vulnerability is the birthplace of innovation, creativity and change."
After my father passed away in 2017, I would often come sit in his house as it emptied out. I felt surrounded by his presence when I was there. I would just sit with such a heavy heart as tears would pour down my face. Seeing his home look less and less like the space we created so many memories in was soul crushing.
The assumption was his house would turn into a rental unit. This space that I would come to cry in, also had an energy that was undeniable. Behind the tears,I would sometimes look around from a different view. I would say out loud, "What should I do Dad?" Not even knowing what that meant or why I was saying that.
I also started thinking more about how if I leased his home to someone, I would never be able to go inside when someone moved in. If I did have to go in, I would have to see it as someone else's home.
"There is no innovation and creativity without failure. Period."
In 2019, I opened my first business, Barre(tend). I had some incredible women entrepreneurs in my studio space and I started bringing them into my late father's home, sharing some of these ideas. We would sit on the floor and just dream openly and freely about how beautiful it would feel to have this space full of women, to hear soft music playing, women talking, laughing, candles lit, products everywhere, the coming and going of people – to have life back in the space.
A week before the pandemic hit, I had the pleasure of hosting a bachelorette party in The Hiraeth House. We had multiple women vendors set up and an amazing group of family and friends celebrating a really special bride. The entire evening I looked around and knew this was exactly what this space needed to be. The energy was so vibrant. What I needed to do was so clear after that evening (I will forever be so grateful for that evening, that group and that experience).
When the pandemic hit, everything paused. I had to rethink everything, from a different view. From the view of fear. From the view of what a shut down feels like and how terrifying that is.
"The middle is messy, but it's also where the magic happens"
When the world was ready to open again, I was ready to fill the house. My pandemic plan for the house did not get one single response. Maybe it was too soon, maybe it was a bad idea. It wasn't the right time. Eventually, I sat back to see what would happen organically. I put it out in the universe that I was looking for women business owners who want to work in a shared workspace. Running our own businesses but sharing common goals. Community. Growth. Togetherness. Respect. Support.
"The middle is messy, but it's also where the magic happens"
"I'm gonna live in the arena. I'm gonna be brave with my life. I am gonna show up. I'm gonna take chances."
And now we have, 9 tenants in the house. 5 tenants on the other side of the Hiraeth House wall. 2 artists lining the walls. Monthly guests joining us. Relationships with countless businesses in the community.
"We don't have to do it all alone, we were never meant to"
The women I have met in every stage of this process have changed my life.
I absolutely love meeting women business owners at any stage of their journey and hearing about their stories. I LOVE when there is an instant connection where a meeting about one thing turns into taking out notebooks, calendars, and making all sorts of plans and an idea sesh that leaves our head spinning.
Once a month I have women supporting women (not just a hashtag) group that meets and I leave that meeting with so much energy and such a buzz. I really am constantly surrounded by inspirational women…. in The Hiraeth House, my staff at Barre(tend), the students who come into my studio, and the women's group are the constant motivation and validation that I am exactly where I am supposed to be and to continue going because this is just the beginning.
"We don't have to do it all alone, we were never meant to"
We look forward to seeing you at your upcoming visit to Hiraeth House. In order to ensure you are well informed, we have compiled a list of the most frequently asked questions below. 
What is the Hiraeth House?
With local vendors and a unique charm, The Hiraeth House is a one-stop-shop for an afternoon escape, a girl's night out, or a bridal shower.
Where to park?
There is metered parking on Delaware Ave, and unmetered parking behind the building on Virginia Place.
What are the hours?
Each business has their own hours. Some are by appointment only and others have set hours.  We also have set days per month where all the business are open at the same time, refer to the events tab on the website.
Who can I talk to about selling my merchandise on consignment in the house?
The Hiraeth House consists mostly of tenants who have a lease. Please refer to the become a vendor tab to see when we have our next opening for a tenant. 
How do you pronounce Hiraeth?