Experiences At The Hiraeth House
From the invitation to dessert spreads, we have everything you need from start to finish for a beautiful, unique experience at The Hiraeth House. We offer a unique, personalized experience to host a small gathering (between 6-20).  Utilizing the women owned businesses in The Hiraeth House community, we have compiled an amazing menu of activities including:
food
crafts
drinks
workouts
party favors
personalized shopping parties
The Hiraeth House offers experiences to meet your needs ranging from birthday celebrations, ladies' night out on the town, to self-care parties and so much more. Check out some of our hottest experiences below.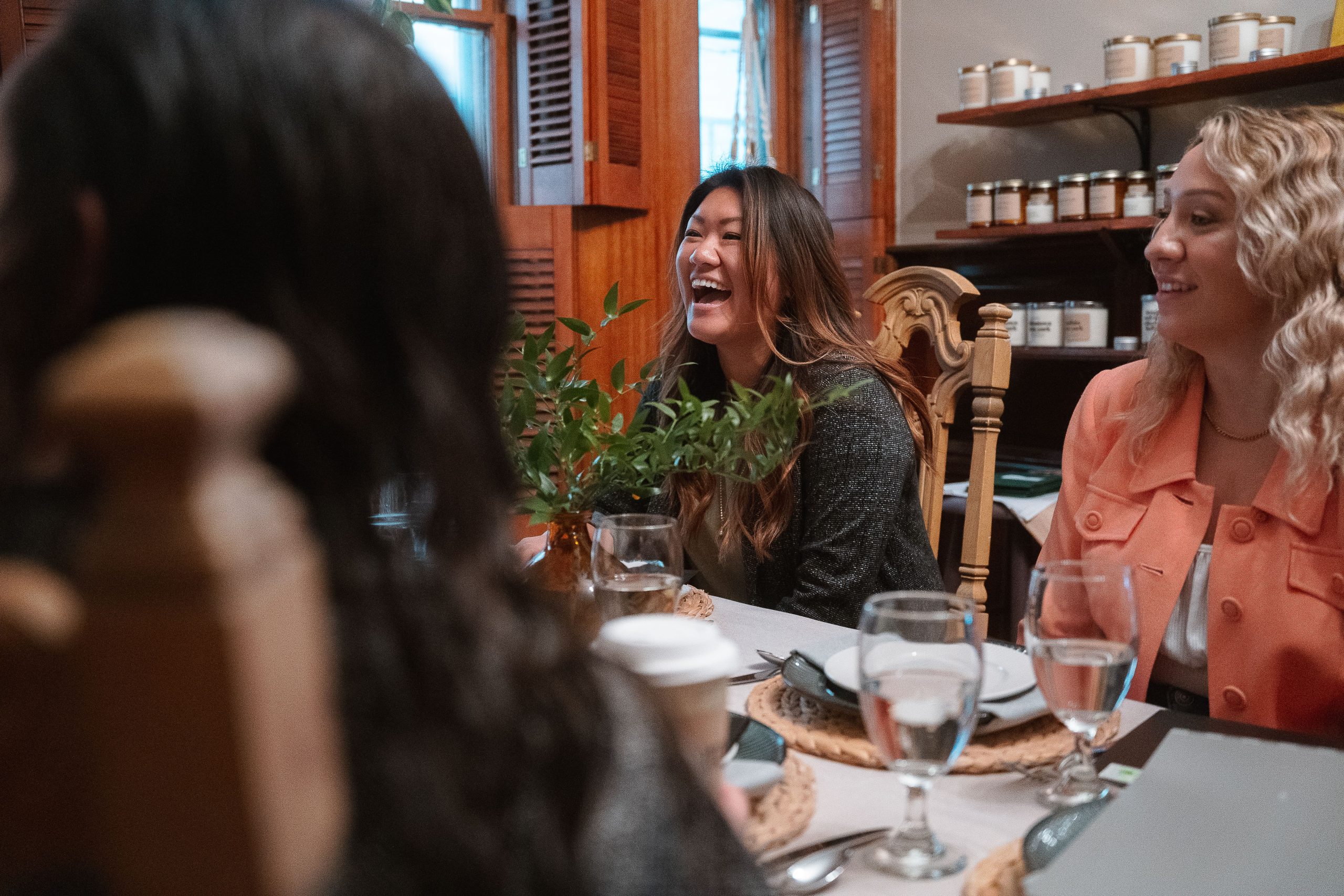 Sunday Brunch
Sip on Champagne while you take a bubble booty barre class!  Snack on individual charcuterie boxes and an amazing dessert spread! Spend the afternoon working out and having some laughs with your crew!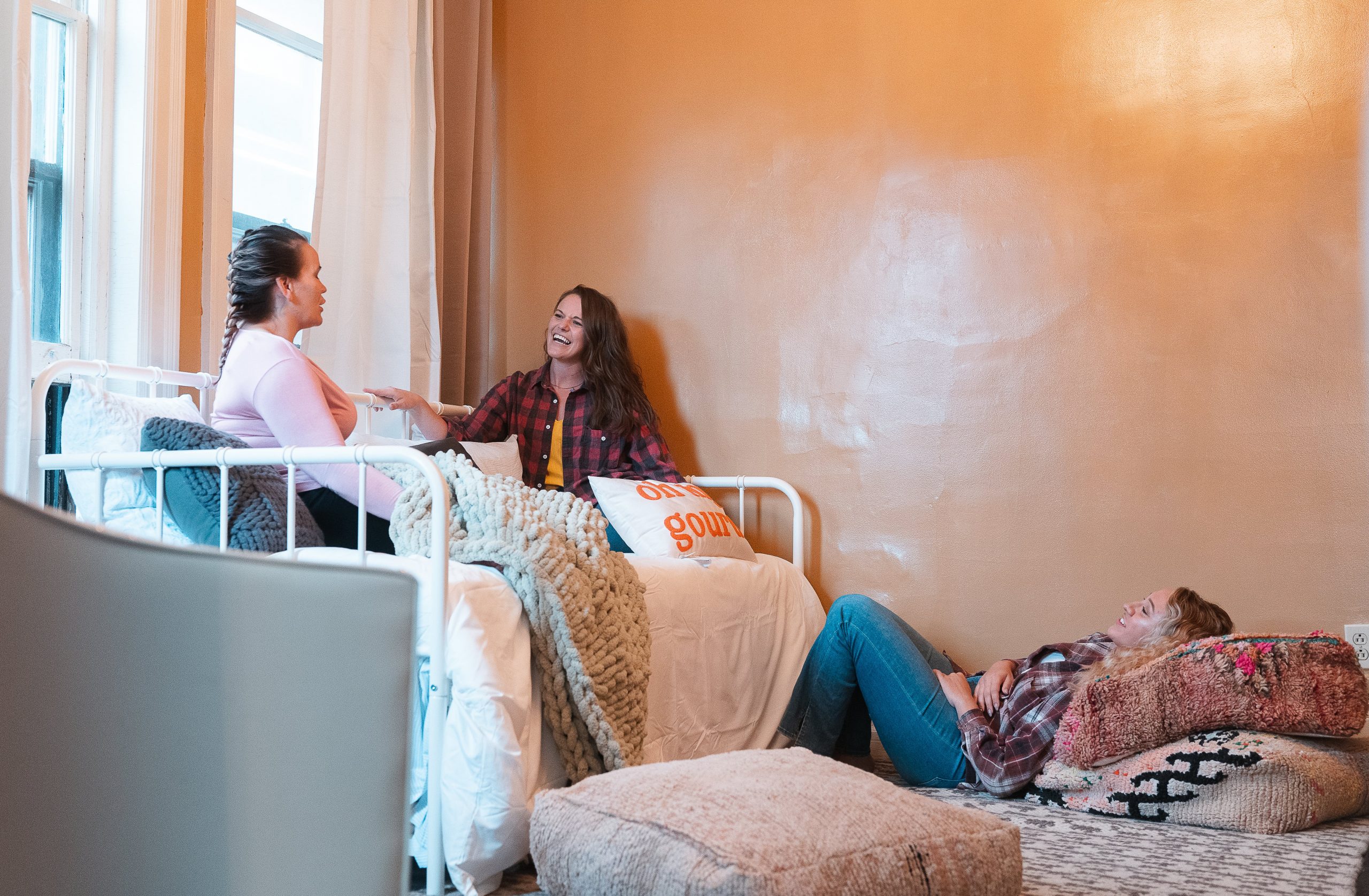 Birthday Celebration
Kids birthday parties are so fun, why can't adults be – well, now they can! Start with an activity by creating a Vision Board led by one of our house artists.  Of course you can supply your guests with custom themed goodies bags, (because adults love those too).  Have a Birthday cake made by our house baker and why not make it a sleepover in our retreat spot right in the House!  
Bridal Shower
From start to finish, we got you. Order your ladies a comfy, custom Bride sweatsuit that they can wear while sipping on a mocktail made of tea and a seasonal dessert tray. Learn how to make beautiful macrame plant hangers. Work with one of our house artists for custom made invites for your event!  Want a candle party favor customized with your wedding date on it? We do that too!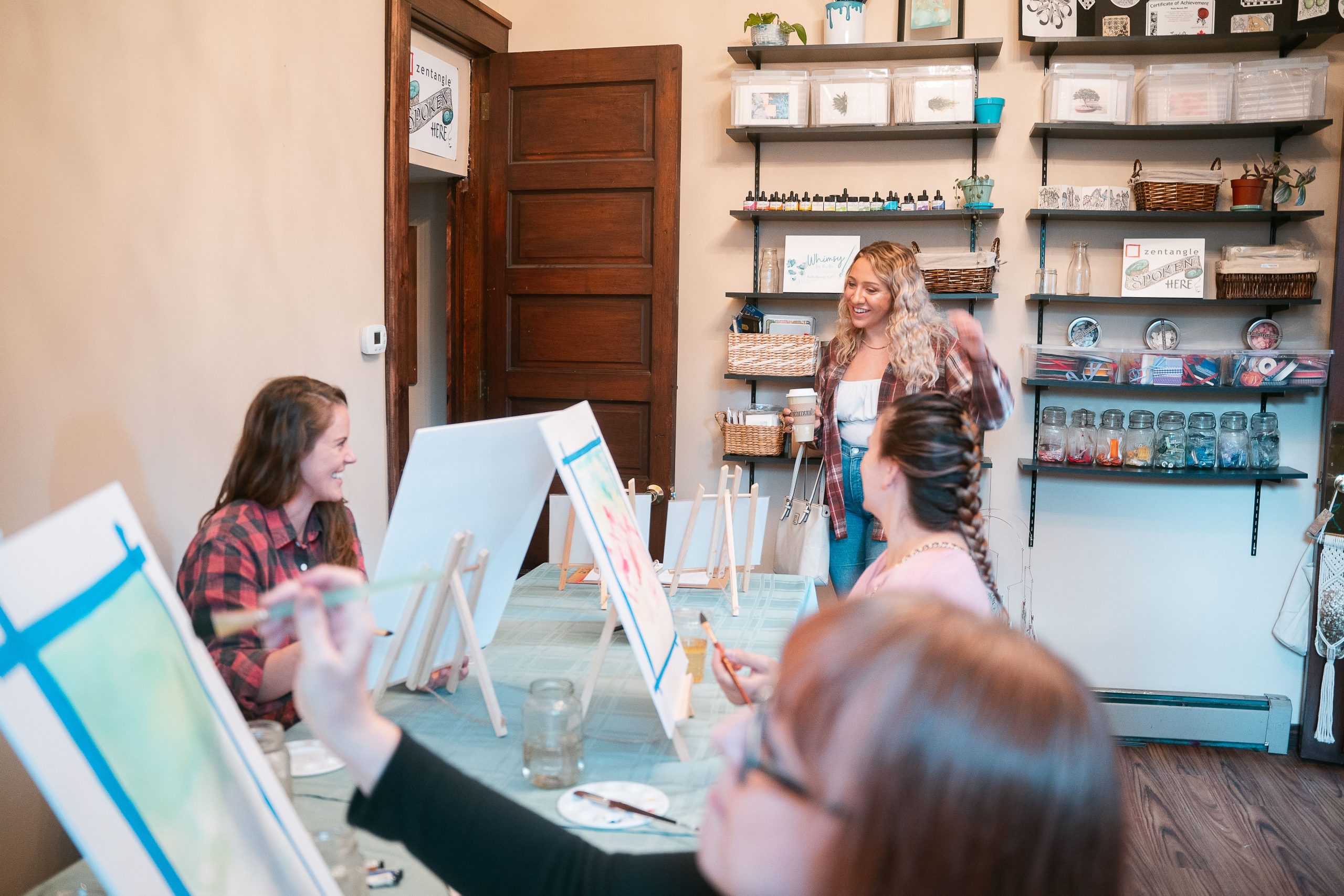 Crafters
Make seasonal greeting cards, a watercolor paint night, take a zentangle class, learn how to make paper flowers!  The options are endless and are all led by the artists of the House.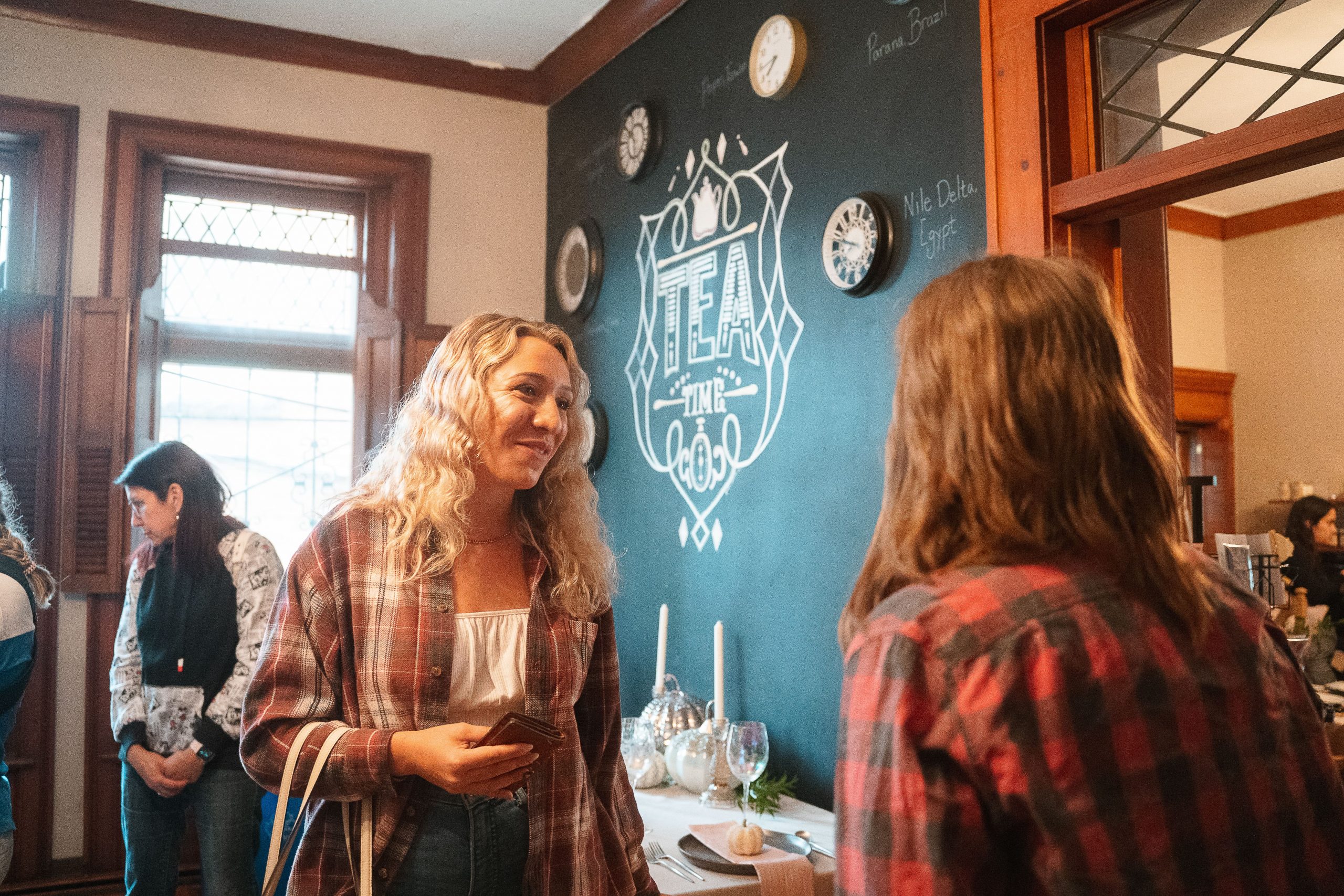 Girls Night Out
Happy Hour at the Barre!  Start your evening with a black light twerk class. Let loose to a customized playlist by the guest of honor and all the participants! Have our house photographer take pictures of class that you can post to social media to document your night. Sip on some Raspberry Hibiscus Bubbly tea and maybe… include some adult themed sweets for your group!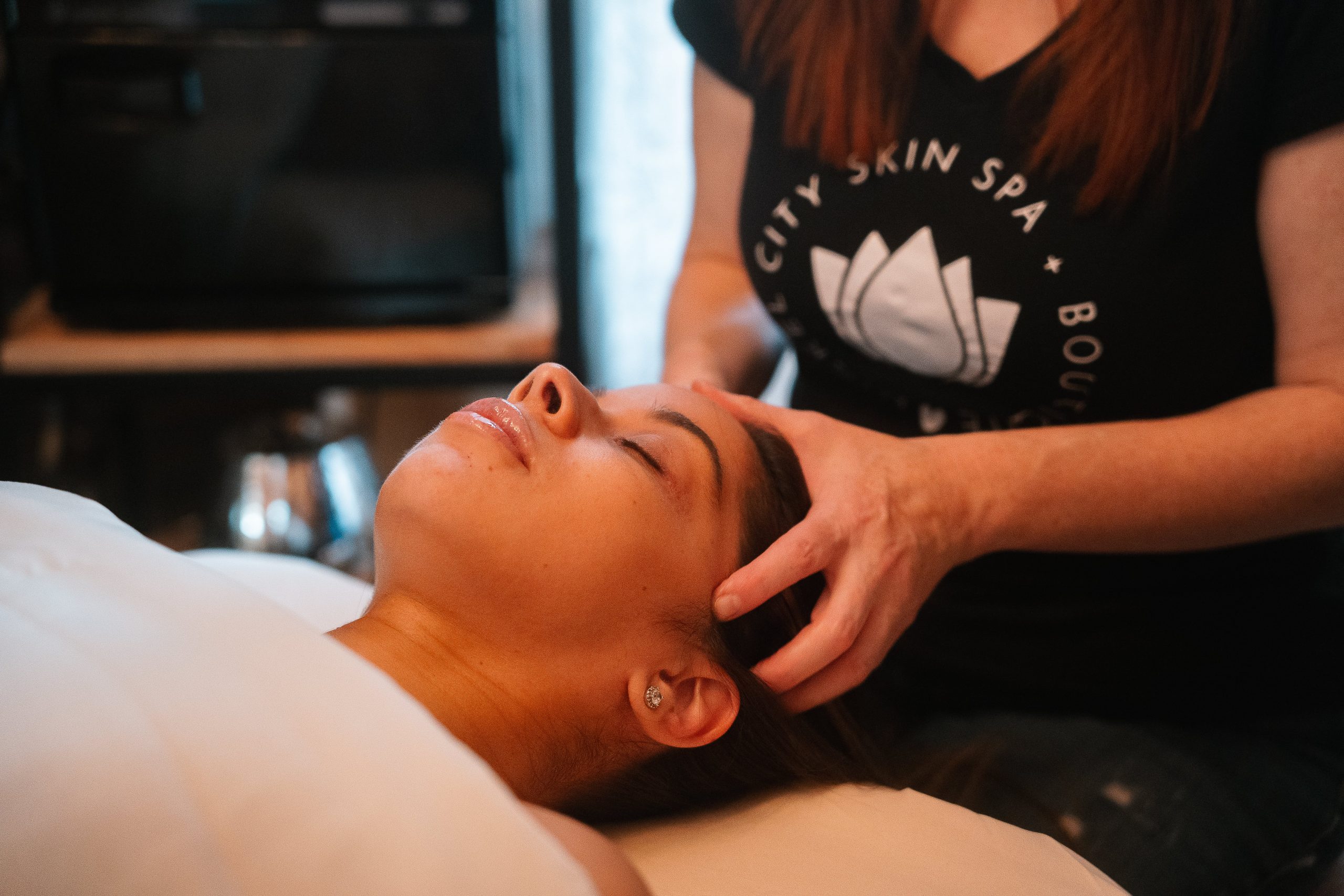 Self Care
Unwind after a long week with one of Nickel City Skin Spa's esthetician while they guide you through each step of their amazing facial kits. After your skin is feeling refreshed and glowing, spread that love to your entire body with a 45 minute stretch class. Sip some warm Lavender tea, or in the warmer months some refreshing Lavender lemonade tea. 
You pick your experiences, we do the rest!
Looking for a unique experience for your next special occasion? Use our à la carte menu below to build your own experience. Simply review the options and then when you are ready, request your experience(s) and specify what you would like to include in your package.
Click an experience below to expand the details.
Barre(tend)
Book a barre, yoga, tweak, belly dancing meditation or stretch class. All classes can be customized to any level. We can have some fun with themed classes too. Think 80's music and attire! Classes range from 30 minutes to an hour.  $50 an hour.
Buffalo Butter Cream Babe
Indulge in a decadent homemade "tea party pastry platter" by Buffalo native, Gabby Gross owner of Buffalo Buttercream Babe. Assembled with a variety of homemade pastries, cup cakes, cookies and dessert breads. (Nut free and Gluten Free options available)
Tray serving
6 people $60, 12 people $110, 24 people $210
Buffalo Macrame
Get in touch with your craft side with this 1.5 hour class where you will learn to make your very own macrame design. Choose between a traditional plant hanger ($30) or driftwood wall decor ($35). 
Cup of Communitea
Cup of Communitea thoughtfully sources their tea from around the world and uses only the best quality looseleaf in all of their drinks.  For just $20 per person, you can add an individual charcuterie box for each attendee, two hours of tea service including two iced teas and over 15 hot teas made to order, as well as a 15% discount on any retail items bought that day.
Naked Up North
The perfect personalized party favor! Give your guests a locally made soy candle with your own custom label. Choose from 20+ beautifully blended scents hand-poured without chemicals or additives. From super fragrant to soft and subtle, we offer a scent for every palate.
6 oz. candle tin with custom label — $12 each
10 oz. candle with custom label — $18 each 
10 oz. candle with custom label, gift box and ribbon — $20 each
*Please contact Jennifer Kovach at [email protected] to discuss scent and label options.
Nickel City Skin Spa
Gather your group + join Nickel City Skin Spa as we guide you through a complete facial experience. Receive a customized skincare kit, with instruction from a licensed esthetician for a step by step tutorial, along with a little education and a lot of fun! 
$35/person
The Nook Space
Book the Nook! Nook space us a great option for anyone wanting to get some rest after a day filled with activites or for those wanting to spend the night with a group of gals pals where you can unwind and spend some quality time together. Nook space provides all sorts of amenities during your stay;from snacks and self care items, to cozy robes and candles, booking a nook is the perfect way to start and end a weekend at The Hiraeth House. Give yourself, or a great gift option the weekend you deserve!
Bullet Journal Workshop Color You Healthier – Calling all writing supply, sticker and planner fans! Get your creativity flowing and set health and self-care goals by starting your own bullet journal! Participants will receive a journal starter kit, practice simple lettering techniques and create the first four pages of their creative journal! $25 per person, 5 person minimum.
Oh Goodie - Oh Goodie
Customized goodie bags and gift baskets filled with locally made items. Curated gifts can be themed and personalized and are ready to gift for weddings, corporate events, or any occasion! Gift bags and baskets start at $10+ and will be hand crafted with your needs in mind.
Whimsy by Kelly - Zentangle
Discover your inner artist with the Zentangle® method of creating artwork through structured. patterns while finding a way to relax and embrace the moment.
This creative, inspiring, and relaxing practice only takes minutes to do and few materials.
Come join me on this discovery of you and your artistic side!
2 hours $25 per person, includes all supplies
Whimsy by Kelly - Watercolor Paint Night
Come spend time with friends, learn how to create a beautiful painting from start to finish in a no stress environment.
Unlike most paint nights I use watercolor for a beautiful transparent exploration of this wonderful medium.
2 Hours $20 per person
Whimsy by Kelly - Make Your Own Handmade Book
Similar in make-up to a children's "board book, this technique" is perfect for all kinds of projects. Because there is no sewing, it allows for seamless image crossover across the fold and it lays very flat and can vary greatly in its function and appearance depending on paper, detailing, and covering material choices. This can be finished in one afternoon.
3 Hours, $40 per person
Whimsy by Kelly - Quilling
What is Quilling? Quilling is paper filigree; an art form that involves the use of strips of paper that are rolled, shaped, and glued together to create decorative designs. These shaped coils are arranged to form flowers, leaves, and various ornamental patterns similar to ironwork.
Learn the basics and make a fun flower or snowflake
1.5 hours (up to 2 hours for large groups), $15 per person
Whimsy by Kelly - Paper Flowers
Learn how to make realistic paper flowers for centerpieces, bouquets, wreaths, nursery décor and more! Great for bridal showers, baby showers or get-togethers.
1.5 hours $12 per kit, 1 kit per person with option to purchase more.
Whimsy by Kelly - Stamping Workshop
Make a fun seasonal project using traditional rubber stamps and various paper techniques.
1.5 hours, $15
Whimsy by Kelly - Cardmaking Workshop
Make 5 cards in various styles using an assortment of papercraft techniques.
2 hours, $25, person
Whimsy by Kelly - Vision Board
A vision board is a visualization tool that uses a combination of words and pictures that represent your goals and dreams. It is an amazing tool to help you manifest and bring in what you truly want in your life.
1.5-2 hours $18 per person.